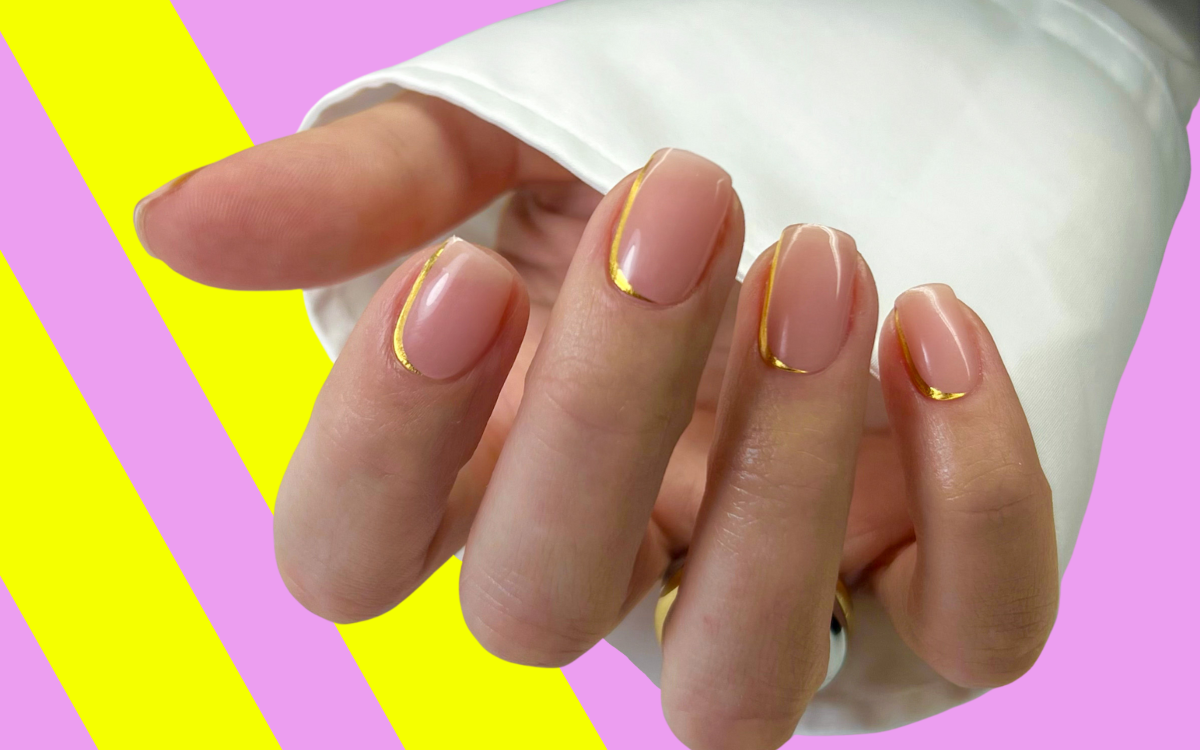 The N.1 nail artist from Holland creates one-of-a-kind design for Maniac gel polish nail stickers.
Everyone wants a manicure from Anouk Nijs, the best nail artist in The Netherlands! 
Renowned as the go-to nail expert for celebrities, she has partnered with Maniac to create her favorite nail art as a gel polish sticker. On March 5th, the duo will unveil their latest design, Goldfinger, which can be effortlessly applied at home, making this high-quality gel art accessible and affordable to all.
An interview with Anouk Nijs.
A collaboration between the premier nail artist in the Netherlands and Maniac - it almost seems too good to be true! What does your personally designed gel polish sticker looks like?
My design truly reflects my personal style - minimalist and refined. The nails I create are simple, polished, and suitable for everyone. I wanted to create a nail art that is versatile and can be worn for any occasion, whether it be a wedding, a party, or a business meeting where you want to show confidence. In my salon, I've noticed that people appreciate when their nails complement a variety of outfits. As a result, I made sure to consider all of these factors when designing the gel polish stickers for Maniac.
You make me curious. Can you describe what the design looks like?
The design features a natural tone with a striking gold accent on the sides, making it an ideal fit for anyone, regardless of age. Choosing the design wasn't a difficult task, as I reviewed my most popular designs on Instagram and narrowed it down to the top three. As a nail artist, I always stay up-to-date with the latest trends and for this particular design, I drew inspiration from the current spring trends which features glossy natural nails and chrome shades. The final product is a fine balance between them.
What type did you have in mind when you designed Goldfinger?
I would characterize my style as refined, graceful, and minimalistic. Although this nail art can be worn by anyone, I envisioned a self-assured, ambitious woman when designing it. The natural base color enables effortless pairing with any outfit, while the subtle gold accent transforms Goldfinger into a precious adornment for your hands.
You have your own nail salon, why did you want to enter into this partnership?
Maniac is a wonderful product that I fully support, and for good reasons. Ultimately, Maniac can be a godsend for many people. For example, it's ideal for pregnant women who are unable to visit a nail salon, healthcare workers, those attending a party, individuals who are short on time, or those who cannot afford regular salon visits. I believe that everyone deserves to experience the confident feeling that comes from well-maintained nails, and Maniac and I strive to make it accessible to a broad audience. Currently, Maniac's nail stickers are the best available without a doubt, and I've tried others, but they  just don't compare. With Maniac, you get the same high-quality and shine as a salon gel polish at a more affordable price.
How easy is to book a visit with you?
To visit my salon, it's necessary to plan well ahead, similar to booking a reservation at a Michelin-starred restaurant. Clients typically schedule an appointment with me three months in advance, and my salon is located in Eindhoven. However, I do have customers who travel from far and wide for a manicure, including Almere, Utrecht, Den Bosch, and even Belgium. Nevertheless, I understand that not everyone is willing to travel such a distance for a manicure. This collaboration with Maniac enables more individuals to wear an original AnoukNailedit design without the need to visit my salon.
As a nail stylist, healthy nails are also extremely important. What are your thoughts on Maniac gel polish stickers from that point of view?
Preserving the quality of the natural nail is always my top priority. While I enjoy creating cool designs, I find it gratifying to see nail biters with beautiful hands after a few treatments. Some people believe that having manicure done always damage your nails, but I always try to demonstrate otherwise. I want to show that with good nail care, a complete transformation is possible. Using Maniac, you can achieve a 360 nail transformation that strengthens your nails and makes them less prone to breakage, allowing them to grow. Additionally, many people pick off their gel polish, which can be damaging to the nails. Switching to a sticker is a much better alternative. Removing Maniac stickers is quick and easy, and your nails won't sustain any damage.
One last thing, you also make manicure for different celebrities. Could it be that with the Goldfinger stickers you can achieve have the same nails as a celebrity?
Haha, I do indeed do nails for famous people such as Romy Boomsma, Fenna Ramos, Manon Meijers and Kelly Weekers. Also worked with magazines and brands, including Cartier, Vogue, and Bottega Veneta. In short, yes. It is possible and can certainly happen, I have even made this design for various celebrities.
Anouk Nijs, also known as AnoukNailedIt, is a renowned nail artist who has made a name for herself with her elegant designs on just 1 square centimeter of nail space. Her unique style is defined by clean, minimalistic designs with subtle yet impactful details.
"My work stands for creativity, quality and endless perfection. I find inspiration all around me and I am touched by everything my eyes see." – Anouk Nijs
See tutorial of Anouk on Youtube