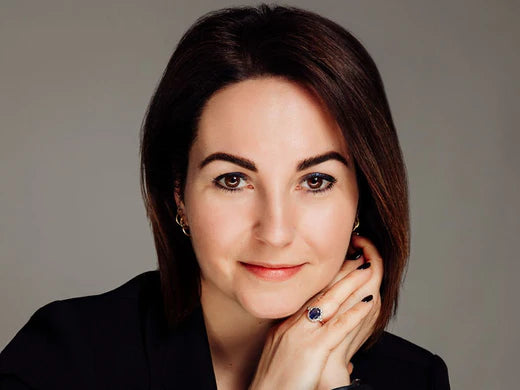 "The nail trends of Fall 2023 you don't want to miss."
I don't know about you, but I'm totally ready to welcome every Autumn 2023 nail trend with open arms. I've already started curating my fall shopping wishlist and swapped out my summer scents for those cozy autumn fragrances. Even though the days are getting shorter, I absolutely adore the fall season - it's the perfect time to get creative, whether it's with fashion or beauty.
Autumn is that magical time when manicures truly shine. While there are no strict rules about nail polish shades for any season, I personally find myself drawn to the rich, moody colors that accompany the fall. I mean, who can resist the allure of a glossy, deep red polish? It's an eternal classic that exudes style year after year. 
1. Dark French nails
The classic French manicure is an all-time favorite. But here's a twist for the fall-winter season - why not opt for a deeper, more mysterious take on this timeless look? Instead of the traditional white tips, go for shades like rich black, warm chocolate brown, or deep forest green for your French tips. Using a dark nail polish or gel to achieve these dark French manicures is a seamless way to transition into this Autumn 2023 nail trend with style.
 2. Latte Art
Remember the latte makeup trend that took TikTok by storm earlier this year? Well, it's no surprise that latte nails are now on the rise. This trend leans heavily into warm brown shades, creating a neutral and versatile look that's ideal for the transition into Fall 2023 Nail Trends. Think shades reminiscent of caramel, toffee, and rich chocolate.
3. Wine Nails
Sure, dark red nail polish is always in for fall, but this season, think of it as a sophisticated take on the gothiccore trend. Imagine a range of red shades, from rich rusty tones to deep, velvety violet-berry hues. It's all about adding that touch of elegance to your fall nail game.
4. Gothcore nails
Gothcore has taken the fashion world by storm, from the runways of Maison Margiela to Dior and Proenza Schouler. To rock this Autumn 2023 nail trend on your nails, you have options: go for an all-over matte black for a sleek, minimalist vibe, add a matte top coat for an extra edge, or get creative with a mix of both for a truly gothic-inspired nail look. 🖤
5. Galaxy Nails: A Stellar Comeback
It's a blast from the past with a modern twist. Remember the galaxy prints and mustache mania of 2010? Well, this fall, galaxy nails are making a triumphant return, but this time, they're all grown up. Instead of glossy finishes, think deep, jewel-toned hues. Get creative by painting a mix of shades and blending them with a nail brush to achieve a mesmerizing watercolor effect.
6. Matte nails
Autumn 2023 Nail Trends are all about embracing opposing trends, and one classic making a major comeback is matte nails. Picture this: a velvety, sophisticated finish that pairs seamlessly with chrome elements or delicate embellishments. It's the perfect way to add a touch of modern elegance to your autumn nail game. 
7. Milky Nails
Looking for a timeless nail style that suits all seasons? Enter "milky nails," the go-to look for those who appreciate a touch of elegance without the need for vibrant colors or glitter. Ideal for fall and winter, this understated design is perfect for clients who want to avoid the sparkle and go against the dark nail trends. Whether you opt for acrylic powders, gel polish, hard gel, or builder gel to achieve this look, remember to finish with an ultra-glossy top coat to achieve that captivating sheer effect.  
8. Mood ring nails
Get ready to embrace one of the most beloved Autumn nail trends of 2023 for the whole season – Mood Ring Nails, also affectionately known as Aura Nails. Achieved through expert airbrushing techniques, these nails feature captivating ombré effects that beautifully mimic the color shifts seen in mood rings. To make your clients' nails truly stand out this season, explore a palette of popular nail art colors, including rich dark purples, sumptuous chocolate browns, or deep, sultry reds. Elevate your nail game with this mesmerizing trend!
9. Tortie Nails: The Timeless Fall & Winter Nail Art Trend
Good news, nail enthusiasts! Tortie nails are back, and they're here to stay. This beloved fall and winter nail art design involves skillfully layering sleek dots of rich blacks and browns amid sheer layers of vibrant oranges or warm yellows. But why stop there? Elevate your tortie art game by seamlessly combining it with a dark French manicure technique or a dash of glitter to infuse an extra touch of style into your nail aesthetic. It's time to embrace this timeless and trendy look!
10. Velvet nails
Get ready for a dazzling nail trend set to make a big comeback this Autumn 2023! Inspired by the 'glazed donut' nails trend, we're predicting a resurgence of shimmery hues. And what better way to rock glossy nails than with magnetic nail polish that awakens a plush, velvety texture? Seal the deal with a glossy top coat and some strategically placed rhinestones for an irresistibly dazzling finish. This season, embrace the luxury of velvet nails and make your fingertips the stars of the show!